Seoul, Korea: Breakfast in Gwangjang Market
Please check your feed, the data was entered incorrectly.
This past week, Mr. WLBalance took an eight-day work trip to Seoul, Korea. It was the first opportunity to take work-life balance on the road since having started this blog. My schedule was mostly fully booked with work obligations during the day time (work); but my evenings and some mornings were "free" (life). I used these moments as a good opportunity to unwind after an especially hectic year on the job.
Following a 15-hour flight and a 4-hour taxi ride through Seoul rush-hour traffic, I checked in to my hotel, took a shower, and crashed for the night. My work obligations for the next day would not begin until the early afternoon, so I visited Gwangjang Market (http://www.kwangjangmarket.co.kr/) to start off with some good breakfast, Korean style (I would like to thank Mark Wiens over at Migrationology.com for the inspiring vlog on this location). Warning, if you are looking for a traditional Western breakfast composed of eggs, bacon (or ham or sausage), and some kind of bread or pastry, this is not the place for you. There are plenty of places that serve such Western fare around Seoul and TripAdvisor will gladly point them out to you. I came all the way to Korea to eat Korean food (I imagine they just call it food here). Including the 30-minute train ride to Euljiro 4 (sa)-ga station, it was only a 45-minute trip door-to-door. And well worth the effort I might add.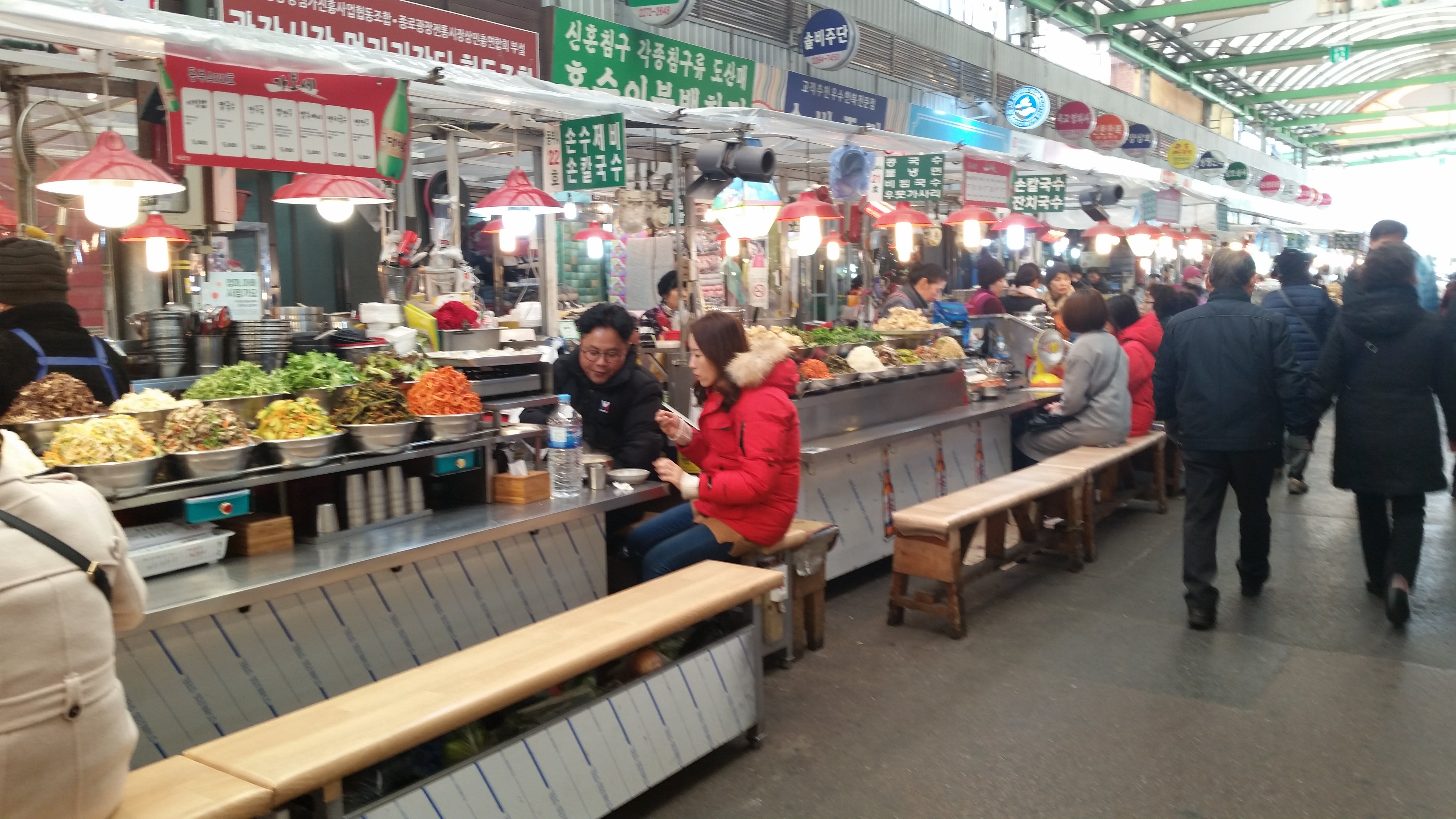 Walking into this large-scale covered market was…to put it simply…just magical. The variety of aromas wafting through the air—combined with the low-humming hustle and bustle of vendors, customers, and suppliers alike—made this an electrifying atmosphere indeed. I could have easily spent an entire day in this place, but I had to make do with the limited time available. A quick walkthrough confirmed what I already knew to be true—it would require many more trips to fully appreciate all that this market has to offer.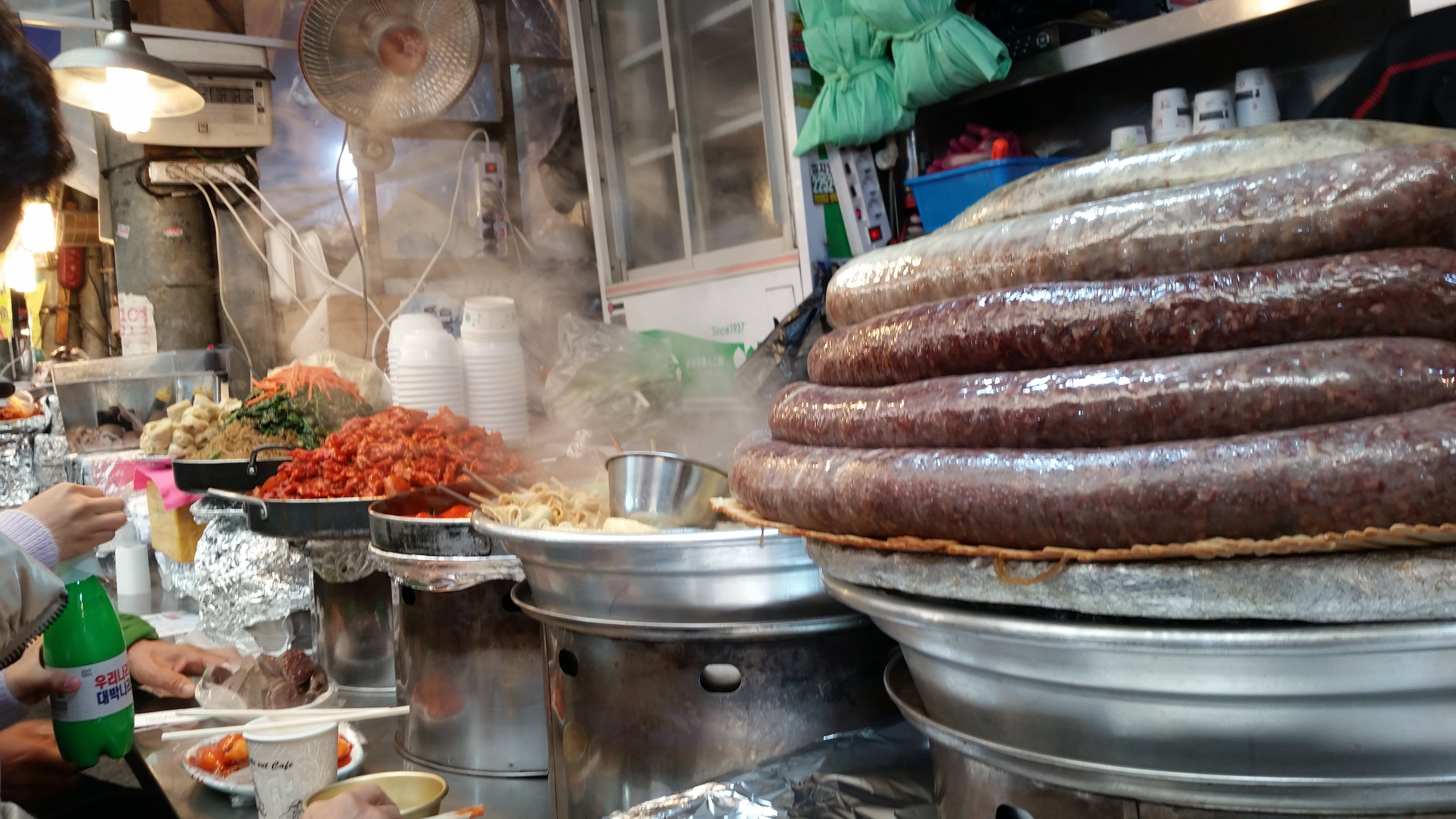 After a wonderful stroll through the market, I settled to a hearty breakfast of gimbap (rice with carrots and a pickled radish or daikon of some sort in the middle; wrapped in seaweed, lightly brushed with sesame oil, and sprinkled with sesame seeds), japchae (stir fried glass noodles), and a small cup of bone broth. All of this is prepared with fresh ingredients right in front of you. The lady at this stall was kind enough to throw in a complimentary tteokbokki (pounded sticky rice cake in a delicious spicy sauce). As if all of this were not cool enough, the simple-looking bench on which I sat (it really was not much to look at) was heated. How cool is that?!! Trust me, on a -10C morning, that was pretty freaking awesome.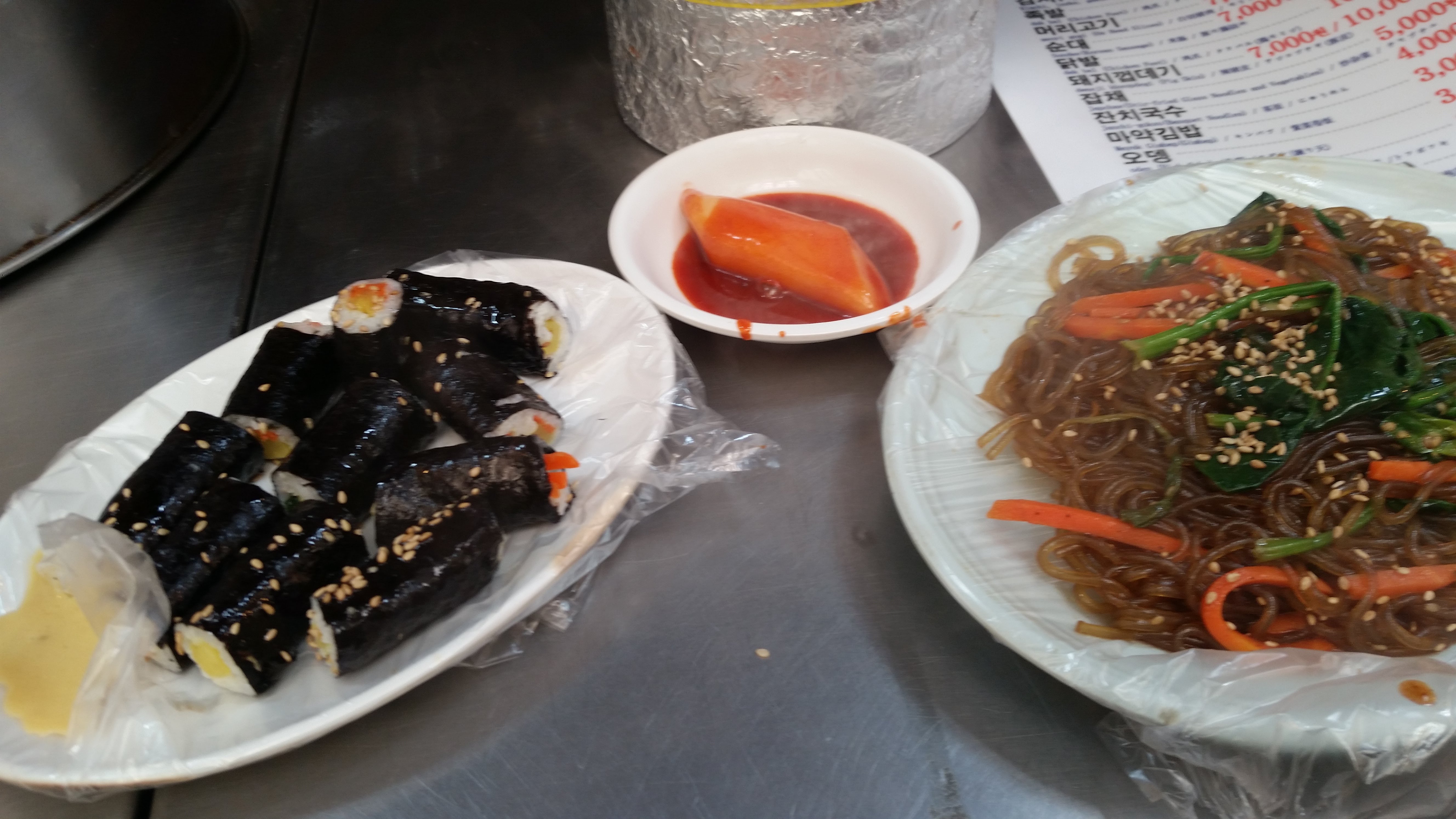 After being brought near to tears at the sheer beauty of this whole situation on this, my first morning in Seoul, I inhaled this wonderful food, let the moment sink in and then left to head back to my hotel. With my belly comfortably stuffed with delicious food, I was now prepared to face an afternoon to late-night marathon of research projects with wonderful colleagues. Now this, my friends, was my idea of work-life balance. Well, if I am being honest, it did not really feel like work.